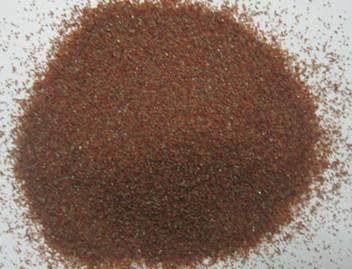 Company: HENAN ABRASIVESTOCKS TECHNOLOGY CO., LTD. Garnet PV:1714 USD216.00/T

Category:Garnet

SPEC:14#

Stocks:40.00T

Price:USD216.00/T

Region: China

Packaging:Bag Package/Small Bag Package

PubDate:2019-02-14 10:54:39

Deadline:2019-03-16 10:54:39
Collect the inventory information
Details of stocks information
Deion沙:
石榴石磨料使用高品质的铁铝合金作为原料, 经过机械加工和水,磁,屏蔽后生产。石榴石具有自锐性,硬度适中,韧性好,边缘锋利,损耗低,寿命长等优良性能,广泛应用于化工,石油石化等行业,建筑领域的爆破和水射流切割。维护船舶和集装箱,建筑业等


物理特征:
| | |
| --- | --- |
| 物理项目 | 谷物 |
| 颜色 | 红棕色 |
| 毒性 | 没有 |
| 熔点 | 1300℃ |
| 在水中的溶解度 | 不溶于水 |
| 比重 | 3.90-4.10克/立方厘米 |
| 电导率 | 小于125us / cm |
| 莫氏硬度 | 7.5-8.0 |
| 病理效应 | 没有 |
| 反应 | 没有 |
平均化学成分:
| | |
| --- | --- |
| 二氧化硅 | 37.09% |
| 氧化铝 | 20.11% |
| 的FeO | 29.73% |
| 氧化铁 | 1.83% |
| 二氧化钛 | 0.46% |
| 氧化镁 | 5.26% |
| 氧化钙 | 2.09% |
| MnO的 | 1.19% |
Mineral Composition
| | |
| --- | --- |
| Almandite Garnet | >98.0% |
| Ilmenite | <2.0% |
| Quartz | <1.0% |
| Others | <0.3% |

Application:
Sandblasting -- Garnet is a new kind of efficient, economic and environment-friendly abrasive for surface treatment and blasting. It has outstanding performance including high productivity, low consumption, superior surface quality and cost effective, which make it be very popular Among international abrasive blasting industry.
Water jet cutting -- Garnet is the most optimal and economical media for high-pressure water jet cutting due to its unique physical properties of high hardness, moderate cutting ability, no free silica etc. It's perfectly available for the applications including: All metals/ Composite/Ceramics/Granite/Steel/Glass/Rubber/Wood etc.
Filtering Media—Garnet is a natural hard and high desity filter materials used in multi-media water filtration systerms. Garnet is recommended as a support bed for other materials such as sand
Size Available:
8/12,12/20,20/40,30/60 for sandblasting
60#,80#,100#,120# for waterjet cutting
Other special size could be supplied as required.
Physical characteristics of Garnet Sand
| | |
| --- | --- |
| Physical Items | Grains |
| Color | Red Brown |
| Toxicity | None |
| Melting Point | 1300℃ |
| Solubility in Water | Not Soluble in Water |
| Specific Gravity | 3.90-4.10 g/cm3 |
| Conductivity | Less Than 125us/cm |
| Mohs Hardness | 7.5-8.0 |
| Pathological Effects | None |
| Reactivity | None |
Average Chemical composition of Garnet
| | |
| --- | --- |
| SiO2 | 37.09% |
| Al2O3 | 20.11% |
| FeO | 29.73% |
| Fe2O3 | 1.83% |
| TiO2 | 0.46% |
| MgO | 5.26% |
| CaO | 2.09% |
| MnO | 1.19% |
Mineral Composition
| | |
| --- | --- |
| Almandite Garnet | >98.0% |
| Ilmenite | <2.0% |
| Quartz | <1.0% |
| Others | <0.3% |

Size Available:
8#,12#,25#,36#,46#,60#,80#,100#,120#
8 / 12,12 / 20,20 / 40,30 / 60
可根据需要提供其他特殊尺寸。